Being Different for Your Big Day by Enjoying The elements of Surprise With Analog Camera
When you live in the digital era, but you want something different for your big day; analog photography can be the best option. The pictures are permanent, it is an easy way to be different and tell a story to the rest, your pictures will have bokeh, dynamic range, timeless look, and natural pastel tone that digital camera does not have; and for the imperfections, you can have fantastic serendipitous results are some of reasons why analog would be another trend in 2018. Analog Photo Session is one of Alvin Photography new product. We have already few clients who are brave enough choosing analog to capture their special days.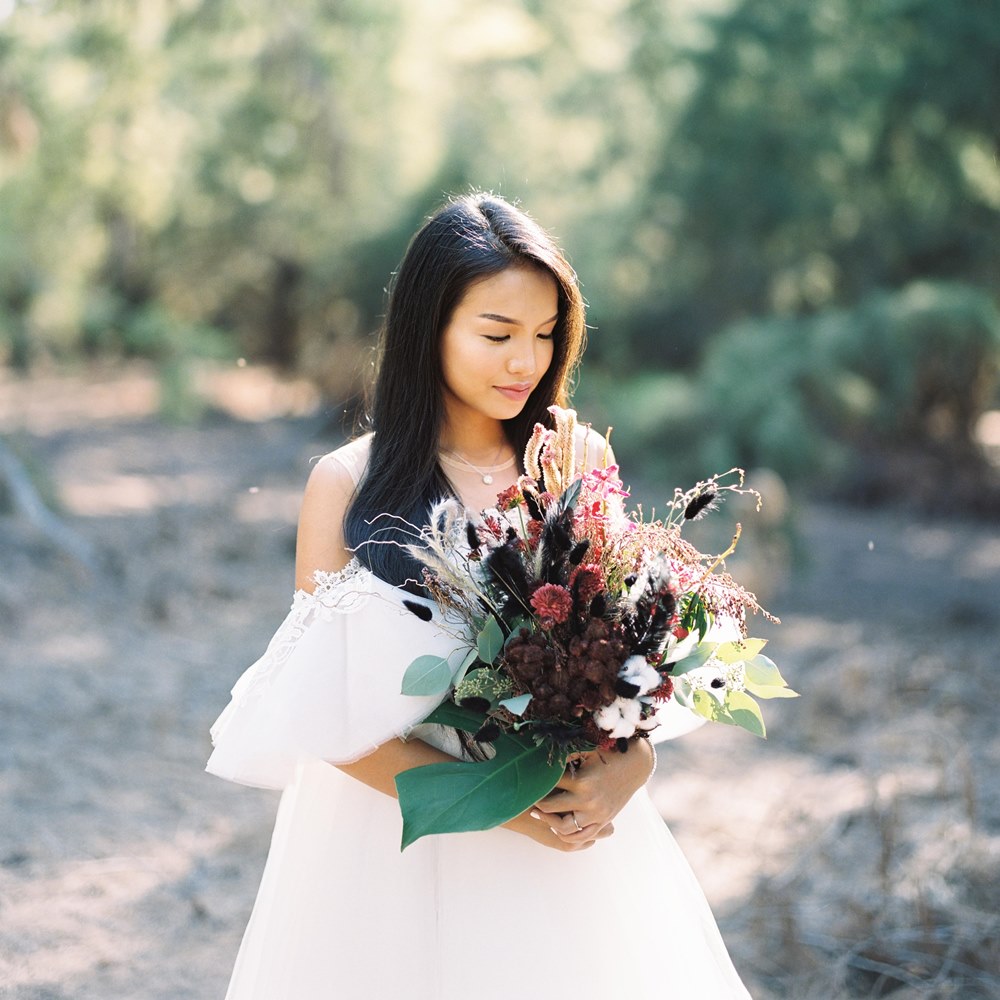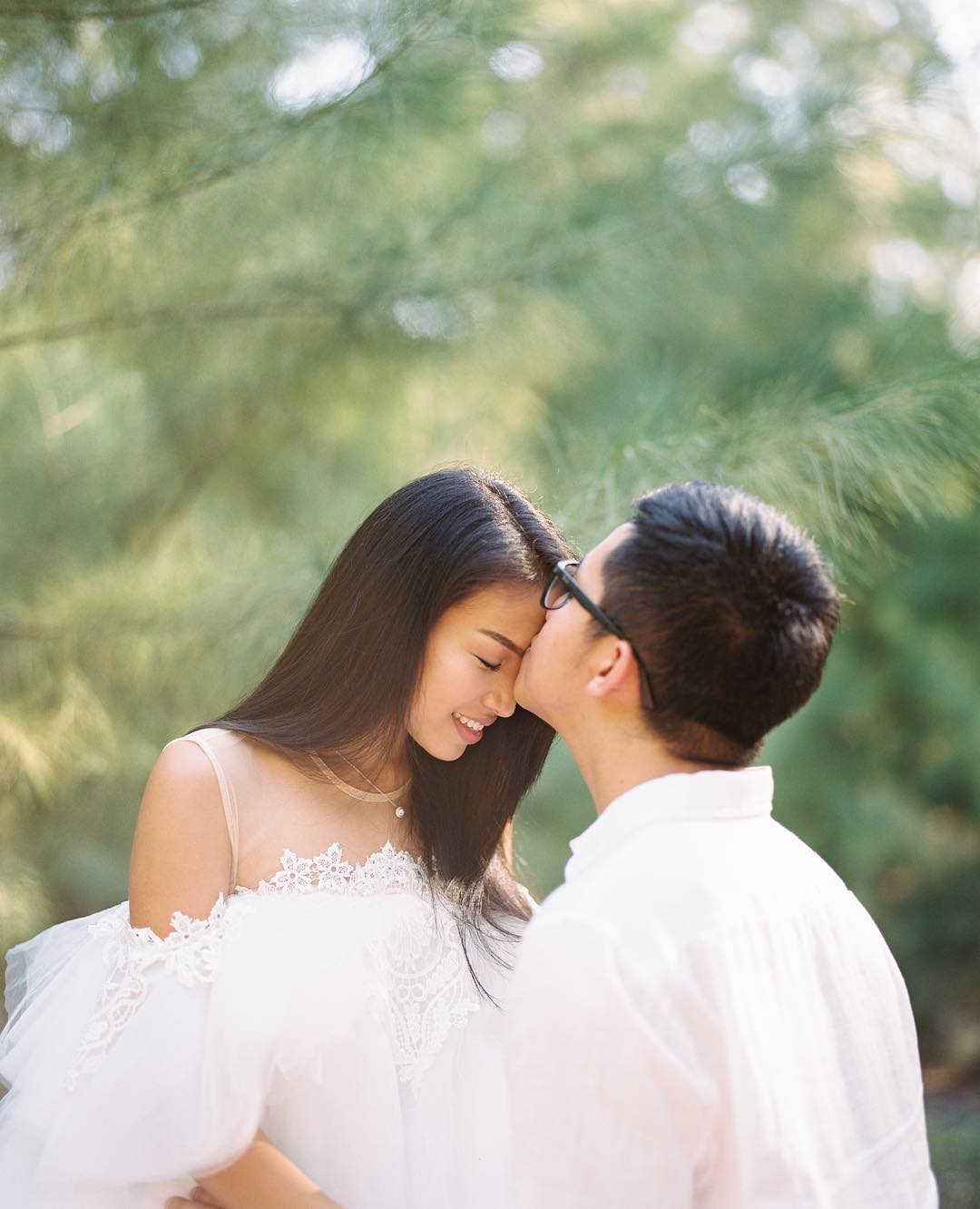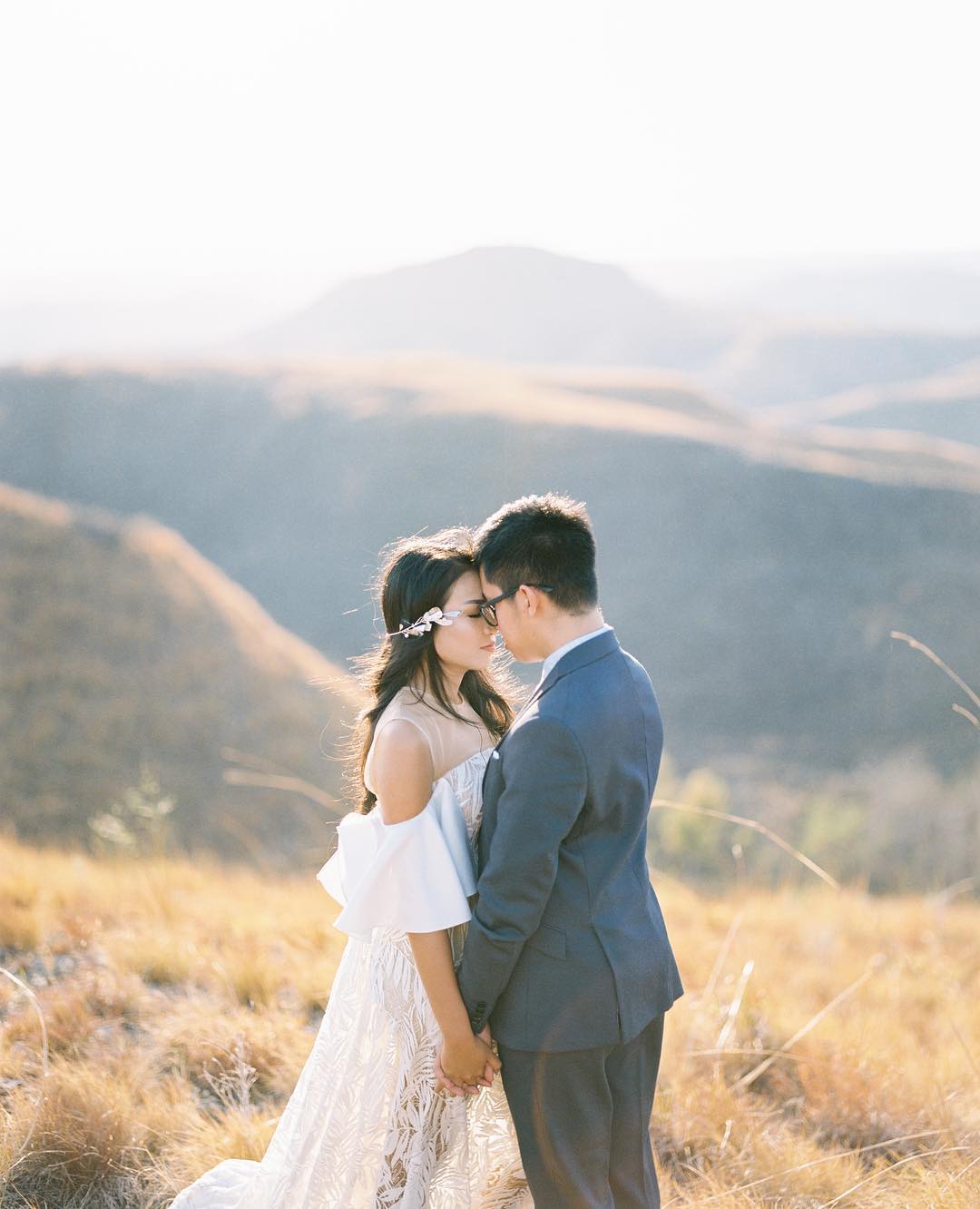 Courtesy from Pre Wedding of Tabita and Andrew
Location Sumba, Nusa Tenggara Timur
Photograph by Alvin Fauzie
One of our lovely clients, Tabita and Andrew took Pre Wedding Photo shoot in Sumba, Indonesia with Alvin Fauzie last year; wore casual yet elegant attire and choosed the beautiful place to do their pre wedding photo shoot. How Alvin captured them with analog can tell us that analog photography was already perfect, there was not LCD screen to checked the photos and you will only see what you have captured after the film roll has processed, scanned, and printed. But when you saw their genuine smile and carefree laugh you definitely knew that is how analog photography works. And a timeless story can be told.
You do not have to worry about a perfect shot. Once the film roll is loaded, the magic will happen once you start clicking the pictures in film roll. And sometimes, the trill of the unknown drive you to be in love with the analog. Some couple were too nervous to pose in front of the camera, but by using analog; you already know from the start that the pictures will be permanent and you must enjoy the surprise element of it and the final timeless look.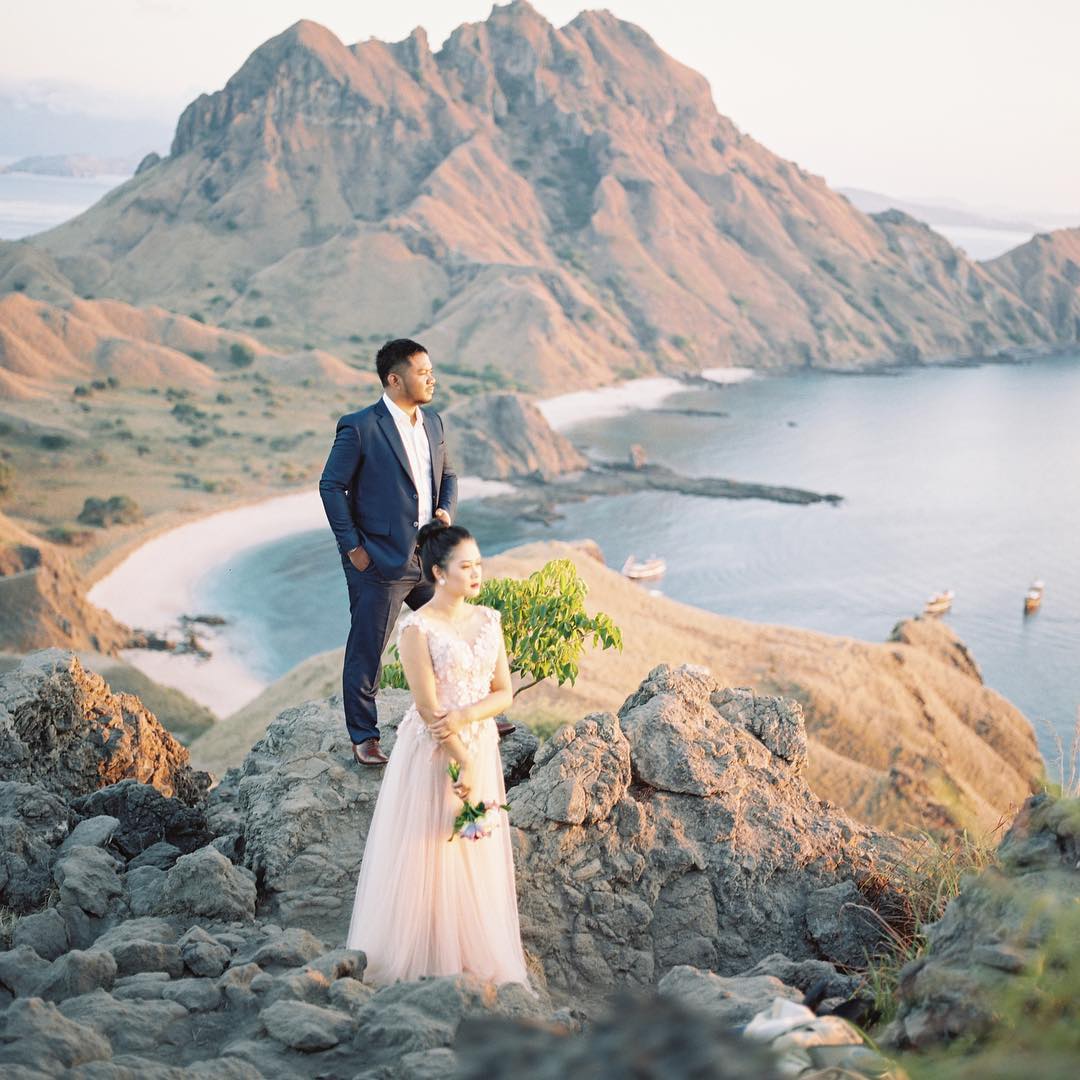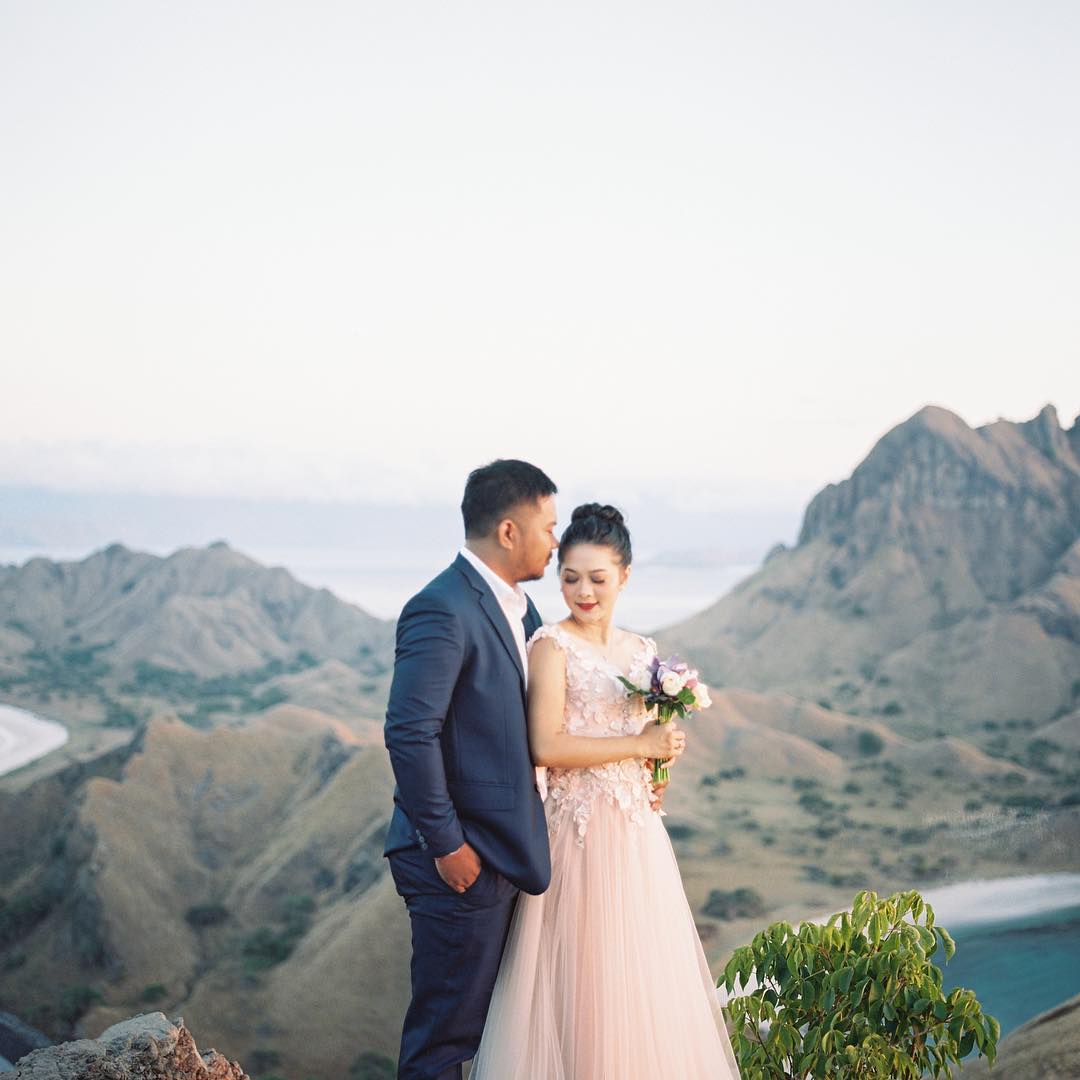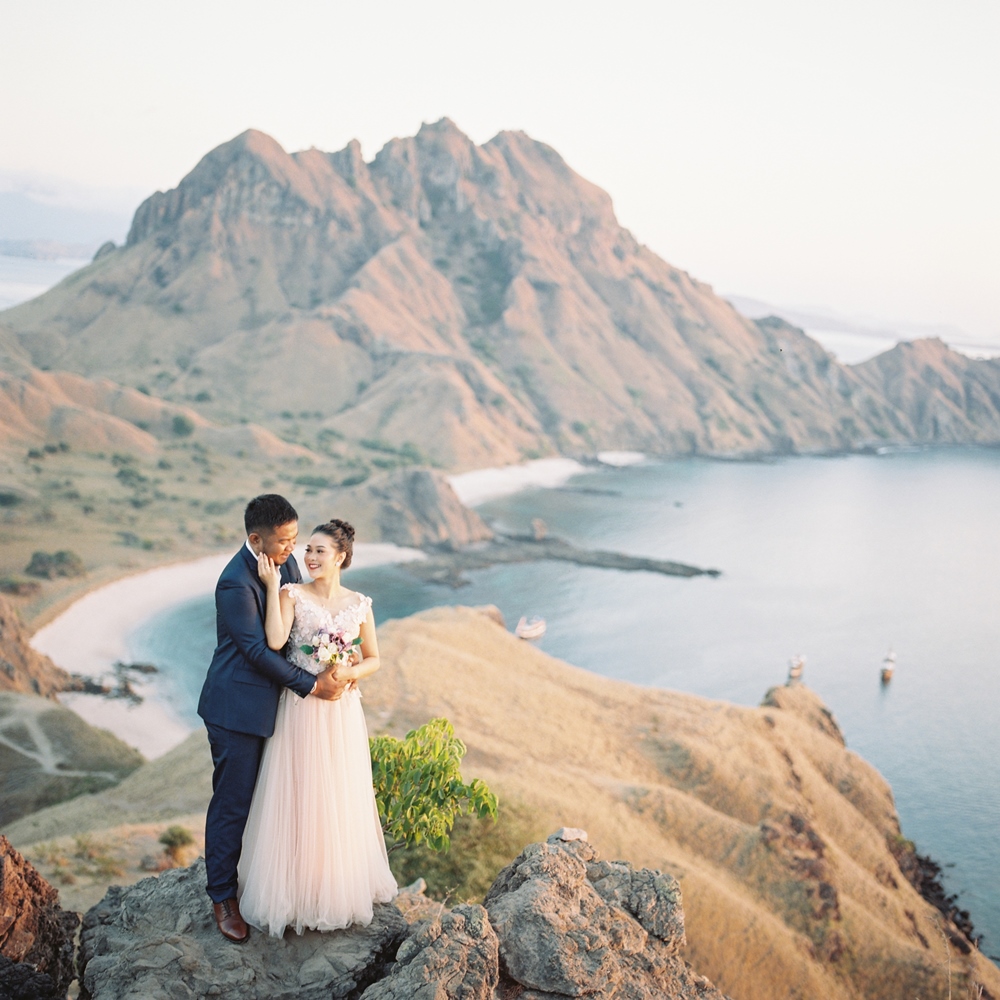 Courtesy from Pre Wedding of Adhyanovic and Kartiniayu
Location Padar Island, Flores
Photograph by Alvin Fauzie
The result of analog camera will have bokeh, dynamic range, timeless look, and natural pastel tone. Bokeh (Japanese) which means blur or fog is another thing that digital camera can not produce. Bokeh in analog photography is unfocused or blur area. While dynamic range is the range of shadows and highlights that can be successfully captured by film is known to have a certain quality that makes the images produced simply look with natural pastel tone better than digital result.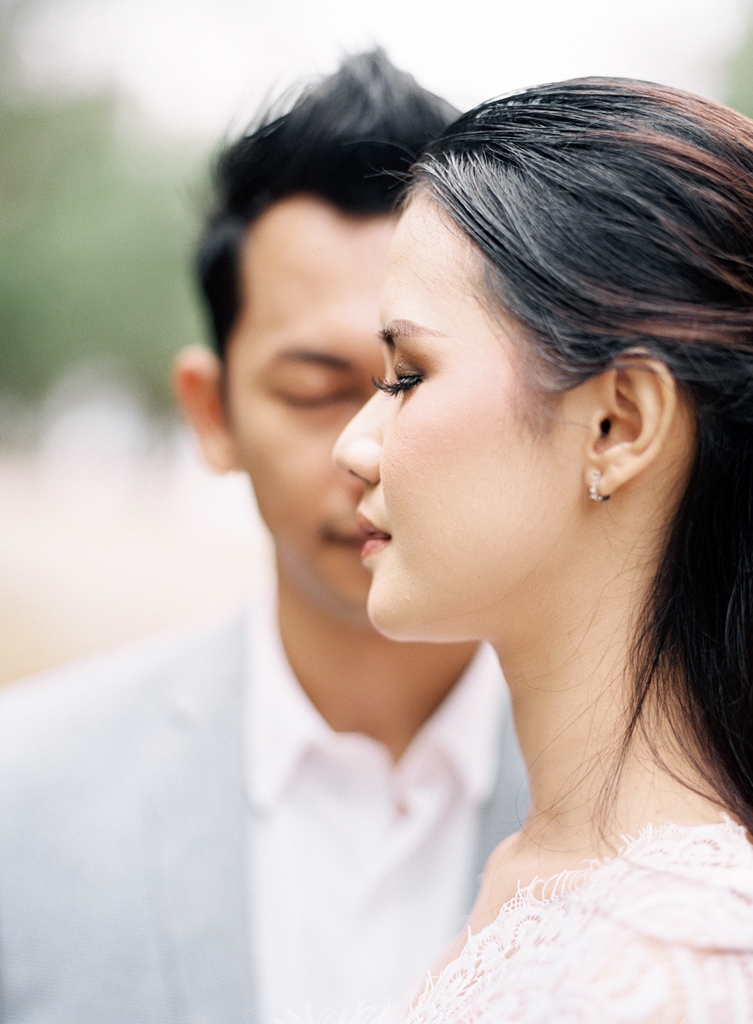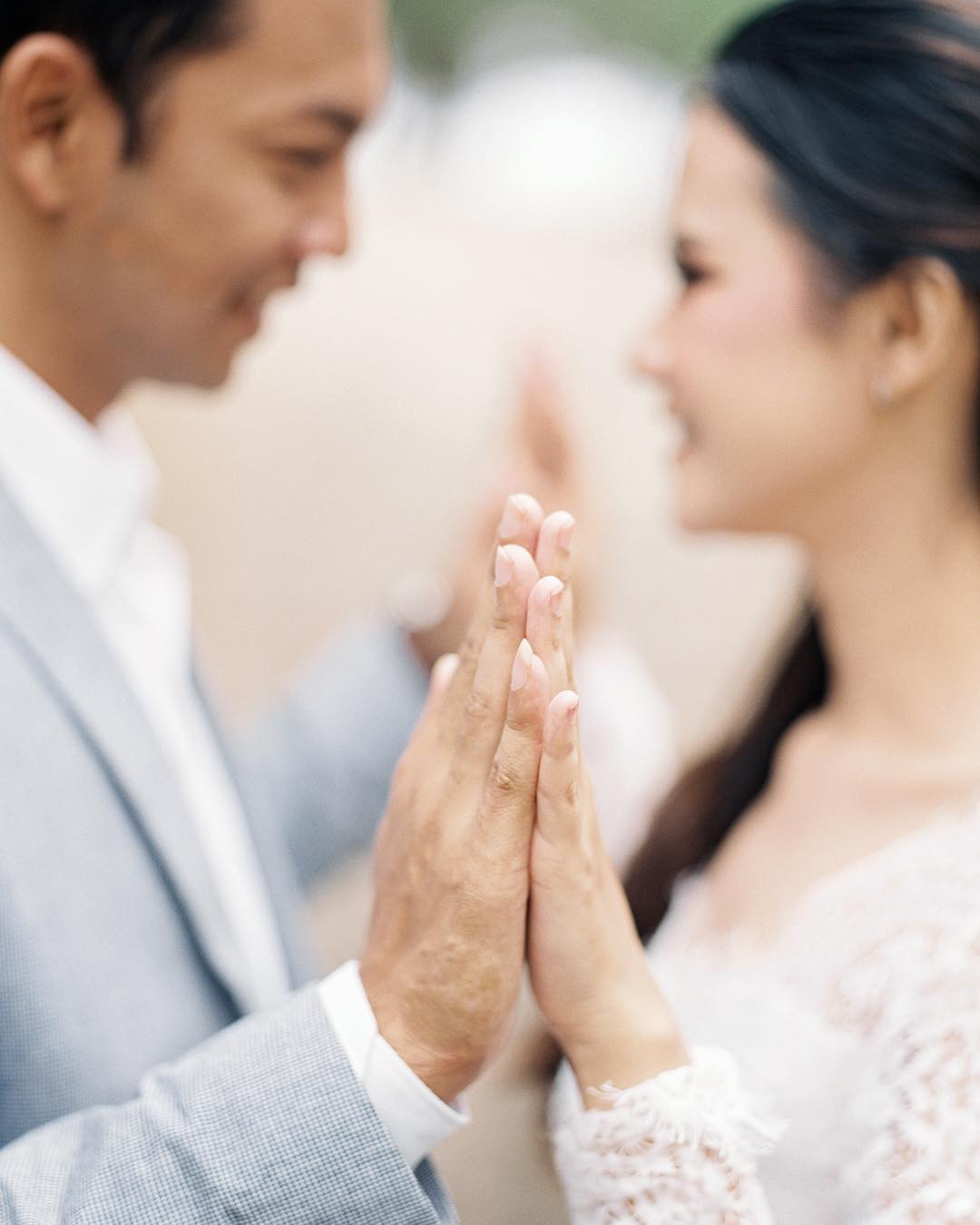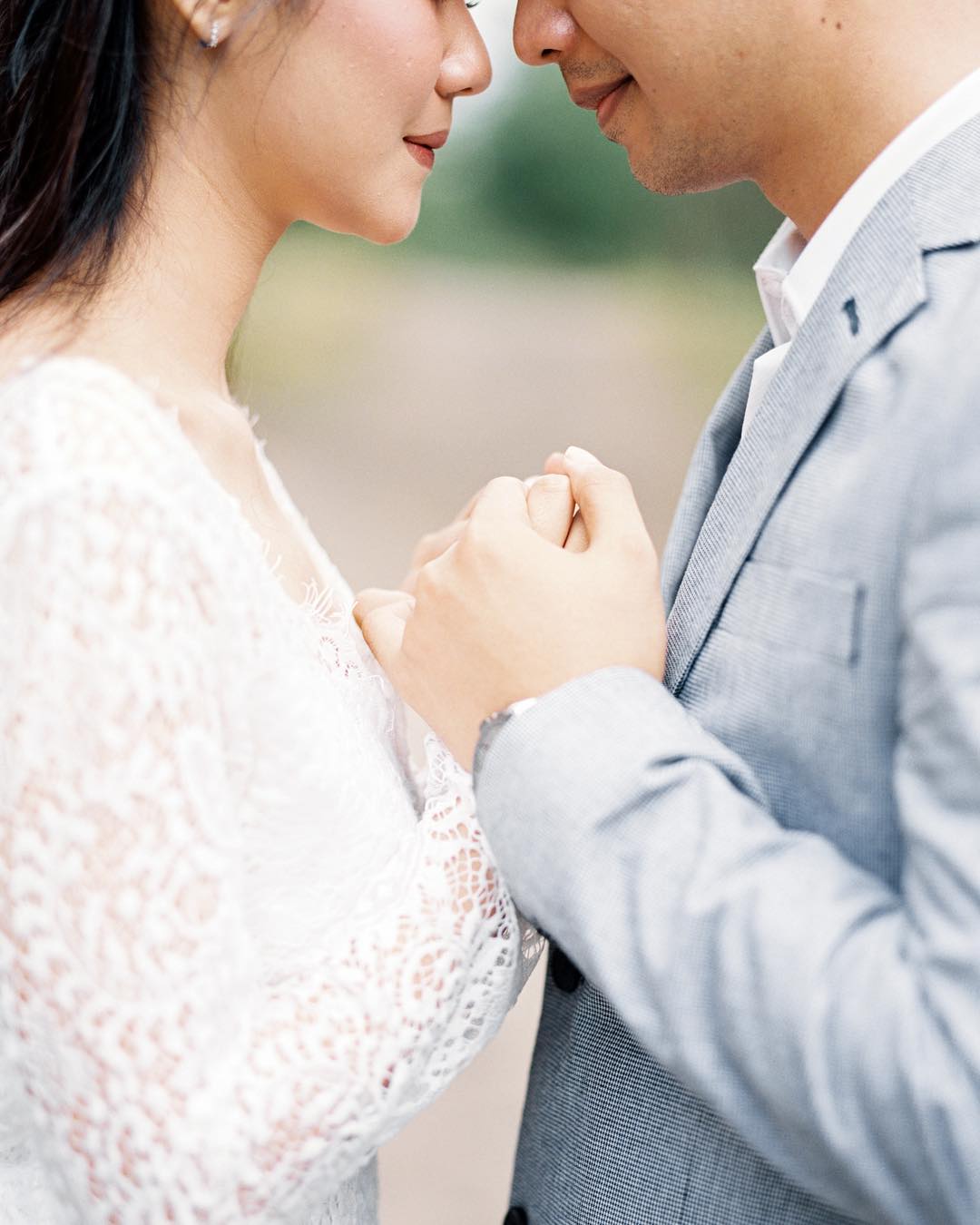 Courtesy from Pre Wedding of Anita and Dodo
Location Yogyakarta
Photograph by Alvin Fauzie
Analog photography is easy to romanticize, because you can make all the decisions what to pose and what to do without the camera, all you have to do was take the pictures and feel all of the serendipity moments that can not be erased once the pictures were printed.
Another rustic theme for Pre Wedding using analog camera can be seen from our dearest client Sherly and David, located in Hutan Pinus Imogiri taken with Hasselblad 500cm Portra 800 which has some pretty heavy grain that adds soul for the images. Alvin captured them and created a dream-like memories with the couple being the perfect center of attention.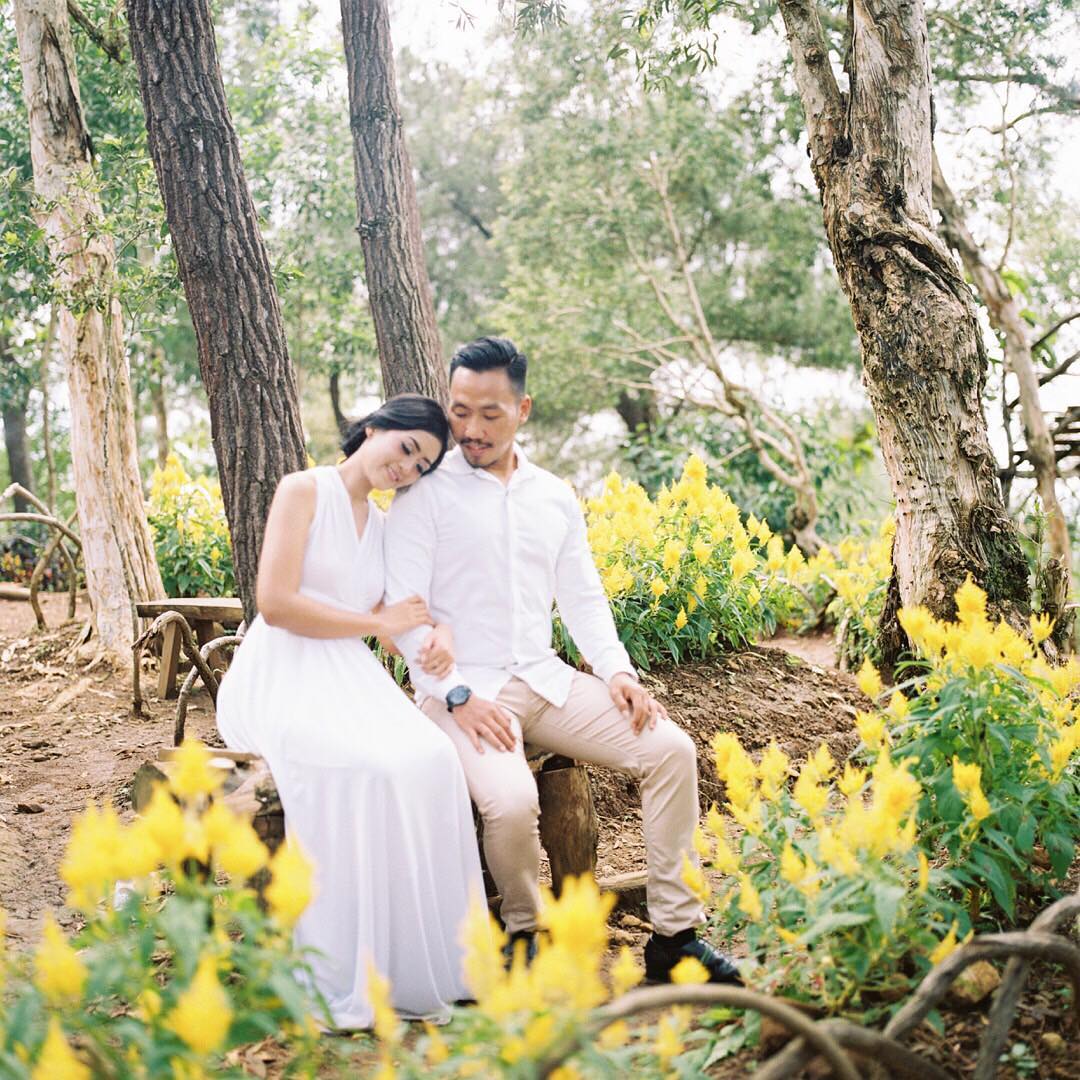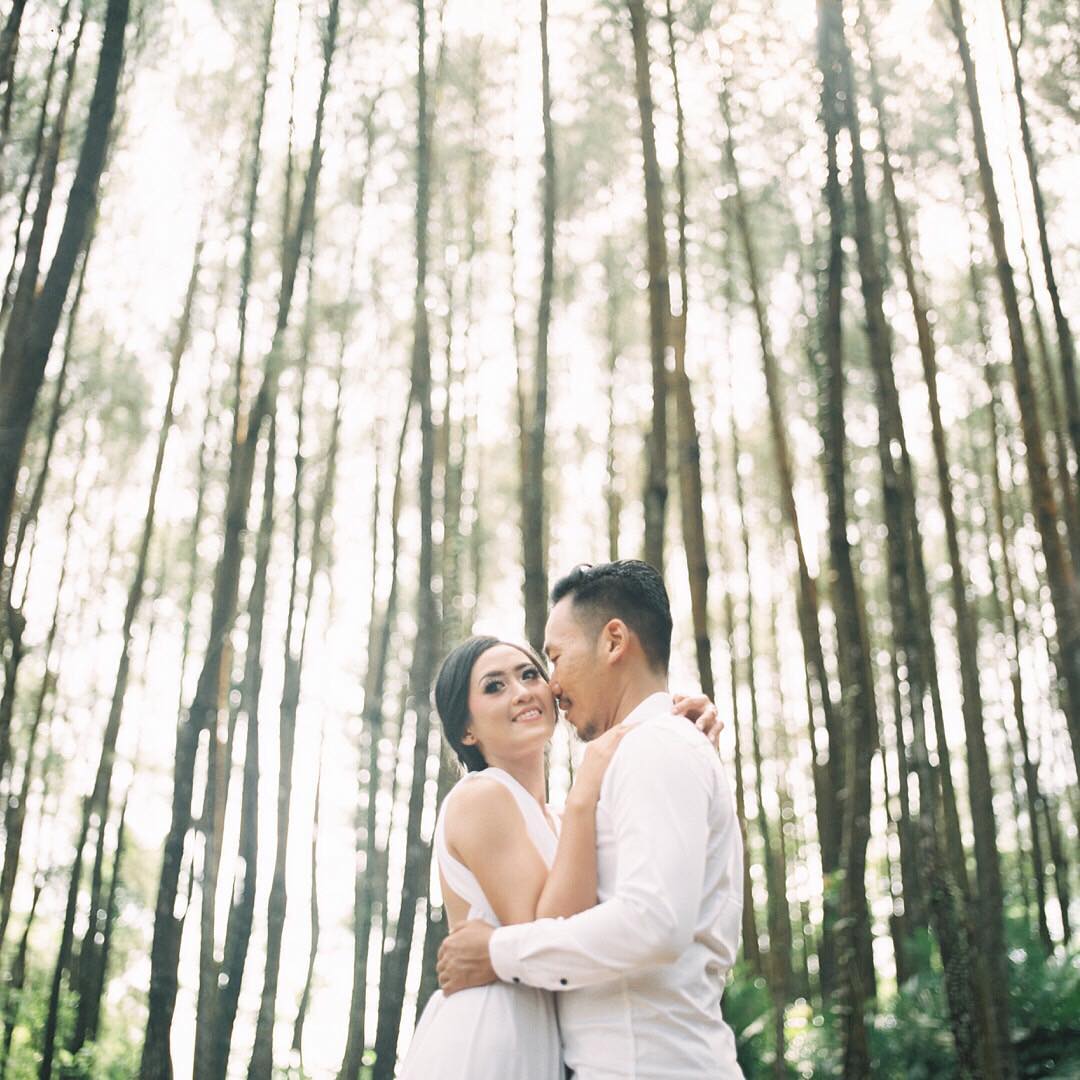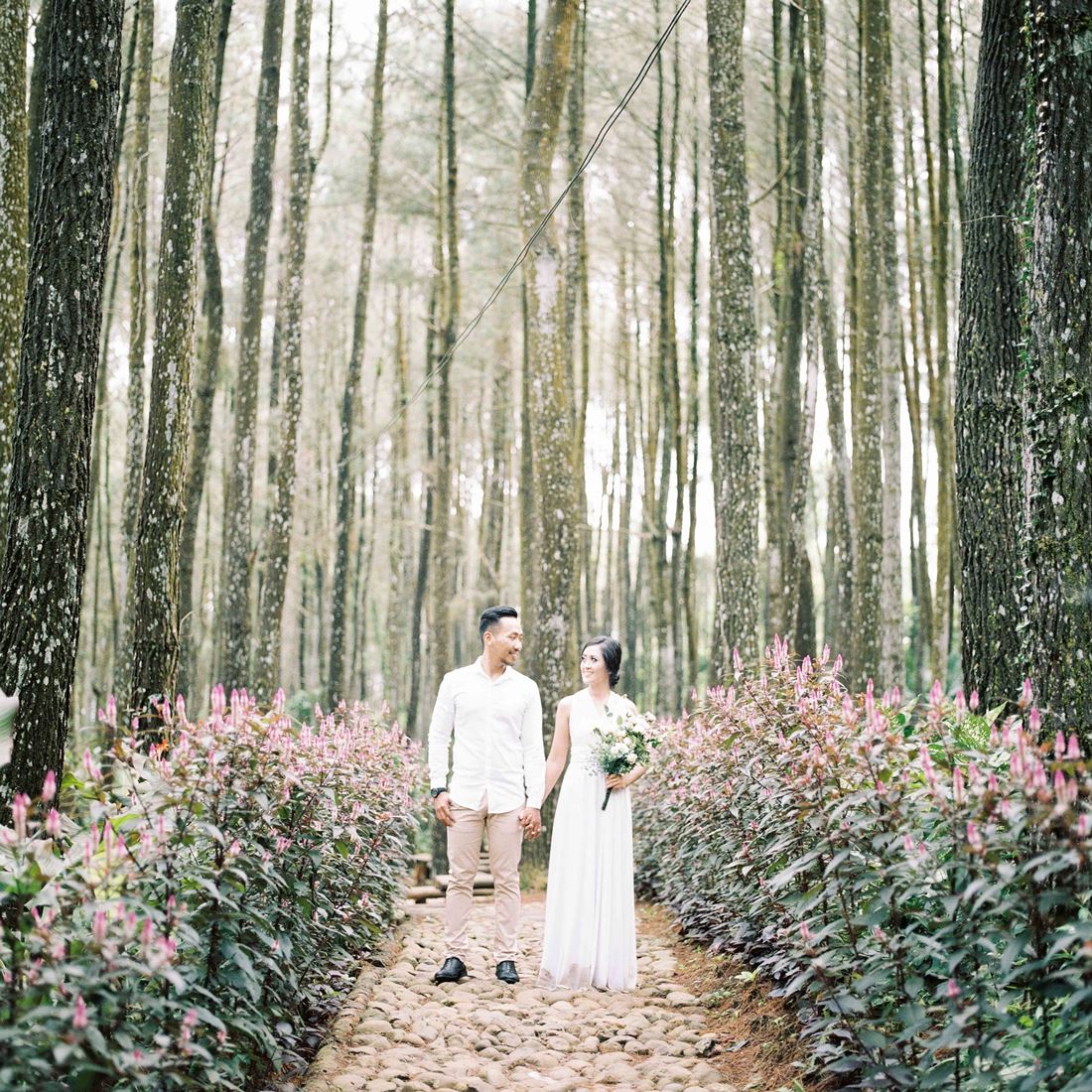 Courtesy from Pre Wedding of Sherly and David
Location Hutan Pinus Imogiri, Bantul Yogyakarta
Photograph by Alvin Fauzie
Taken with Hasselblad 500cm Portra800
Hasselblad known as classic medium format camera and requires some efforts and focus to use it. But sometimes there is something really nice about forgetting high technology and back to the old stuff to create pictures that every time you saw them we would feel warm and nostalgic. Because you would not find the grain and the dynamic range as natural as analog photograph.
Once again, you will surprise about the results, slowing down the process means producing the surprise elements such as colors, expressions, and the story behind the pictures. So, would you consider analog photograph to be part of your unforgettable moment?